When it comes to wisdom tooth extraction, it is important to be proactive. Many parents elect to have their children's wisdom teeth removed before they erupt in order to prevent overcrowding, infections, or other serious oral health concerns. Drs. Mark Luria and Rena Allswang at Dearborn Family Dentistry in Dearborn, MI, perform both simple and surgical tooth extractions. To ensure patient comfort during wisdom teeth removal, our office offers nitrous oxide sedation.
Am I a Candidate for Wisdom Tooth Removal?
Wisdom teeth, otherwise known as the third molars, are the final teeth to erupt, and their presentation varies from person to person. While it is typical for the wisdom teeth to erupt between the ages of 17 and 25 years of age, for some, wisdom teeth never appear. Wisdom teeth can erupt without issue, but in many cases, they cause painful complications that can take a serious toll on your smile. Impaction occurs when these teeth become overcrowded or erupt at an angle, resulting in discomfort, infection, or damage to surrounding teeth. These complications require the removal of impacted wisdom teeth.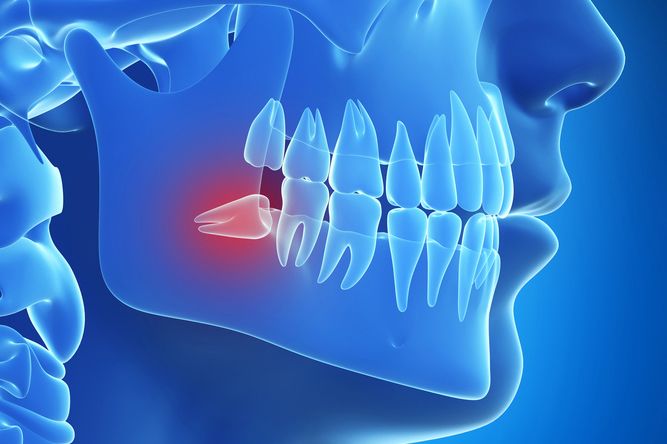 Preventive Extraction
Our doctors may suggest extracting these teeth as a preventive measure. While this may seem unnecessary, the preventative removal of wisdom teeth can provide several advantages:
It can be difficult to predict whether wisdom teeth will cause issues, but extraction eliminates the risks.
Wisdom teeth can harbor disease even if they present no symptoms.
Patients with wisdom teeth are more likely to suffer from cavities and gum disease.
As with any surgery, procedures like this can be more problematic for older patients, whereas younger patients are less likely to encounter surgical complications.
Wisdom Teeth Removal: What to Expect
At Dearborn Family Dental, we want our patients to be as relaxed and comfortable as possible during this procedure. To help patients feel more at ease, we offer nitrous oxide sedation. Our doctors will numb the treatment site before injecting local anesthesia.
If the tooth has erupted, it can be gently removed with forceps. If it is impacted, our doctors will make an incision in the gum tissue and remove any bone obstructing the wisdom tooth. The wisdom teeth may need to be broken into sections and extracted piece by piece. The incisions will be sutured closed, and gauze will cover the incision site to control bleeding and help form a blood clot.
Risks of Wisdom Tooth Extraction
All surgical procedures involve risks. Risks associated with wisdom tooth removal include:
Dry sockets (premature loss of the blood clot, which can cause underlying tissues to become infected)
Damaged sinuses around the upper wisdom teeth
Diminished strength of the lower jawbone
When you choose an experienced and reputable dentist, the risk of these complications becomes remarkably low.
Post-Op Care
Most issues can be avoided by following all of our doctor's instructions, including cleaning your mouth correctly. After wisdom tooth removal, patients must refrain from brushing, rinsing, or spitting for 24 hours. For the first week of recovery, you should avoid brushing around the surgical sites and gently rinse your mouth with warm salt water every two hours and after meals. Also, patients should forgo smoking for at least 24 hours after surgery. Ideally, you should break the habit altogether.
Contact Us Today
If you or your child are 17 to 25 years old, now is the time to have wisdom teeth examined and possibly removed. Even if you are not currently experiencing issues caused by impacted third molars, removal of these teeth could benefit your dental health in the long run. For more information, contact us online today or call (313) 565-5507.