Restore Form and Function with a Dental Bridge
If your smile is affected by missing teeth, a dental bridge can replace up to three consecutive teeth and significantly improve your bite. At Dearborn Family Dentistry, we offer both traditional and implant-supported dental bridges to restore the form and functionality of your smile. Drs. Mark Luria and Rena Allswang in Dearborn, MI, can design and place a lifelike restoration to bridge the gaps for a healthier, younger-looking smile.
Benefits of a Dental Bridge
Replacing missing teeth with a dental bridge can dramatically enhance both the appearance and function of your smile. They can improve overall oral health by:
Preventing movement of remaining teeth
Enhancing your bite and restoring bite balance
Reducing risk of gum disease
Minimizing speech difficulties
Reducing risk of tooth decay
Decreasing risk of temporomandibular joint (TMJ) disorder
A dental bridge can also be a welcome boon to your self-confidence. Many patients report feeling more confident once the gap in their smile has been filled. In certain situations, a bridge can be a stable alternative to traditional dentures, as well.
Determining Candidacy
Any patient missing one to three consecutive teeth may qualify for a traditional bridge. Our team can assess your candidacy during an initial consultation and determine if a bridge is the right treatment for you. Because your neighboring teeth will serve as support for the bridge, they must be healthy and structurally sound. If you are suffering from periodontal disease, you will need to undergo treatment for this condition first. If you lack strong neighboring teeth or prefer the superior stability afforded by dental implants, an implant-supported dental bridge may be a better option.
Replacing missing teeth with a dental bridge can dramatically enhance both the appearance and function of your smile.
However, patients interested in an implant-supported dental bridge must meet additional candidacy requirements. In order to support implants, you must have enough jawbone tissue to support them. Even if your jawbone is weak, preparatory procedures sinus lifts or bone grafts can improve your candidacy. If a sinus lift or bone graft is needed, though, it can add three to six months to your treatment timeline.
During your consultation at our Dearborn clinic, one of our doctors will inquire into your medical history to determine whether traditional or implant-supported bridges are the most appropriate option. They will also outline the risks and benefits of the surgery so that you have all the information you need in order to make a decision between the two. If you deemed to be a good candidate, one of our doctors will create your custom treatment plan.
Traditional Bridges
Traditionally, bridges are held in place by two dental crowns on either side of the gap in your smile. To place the crowns, Dr. Luria or Allswang will first prepare your tooth by gently removing a thin layer of enamel. This ensures that there is enough room in your smile to accommodate the restorations. In order to make sure you stay comfortable, the procedure is typically performed under local anesthesia. If you suffer from dental phobia or have a hard time remaining still in a dentist chair, our dental clinic provides nitrous oxide sedation as an additional measure to help you relax.
Next, we will take a series of impressions of your teeth and send them to our trusted dental laboratory. You may be given temporary crowns to protect your teeth while your new prosthetics are manufactured. It typically takes about one to two weeks for the lab to fabricate a custom restoration.
Patients may experience heightened temperature sensitivity while wearing temporary crowns. One way to avoid unexpected discomfort is to avoid hot or cold drinks and food.
Once the restoration is ready, you can return to our office for placement. Dr. Luria or Allswang will double-check the fit and feel of your bridge before placing it permanently. However, it may still take a while before you completely adjust to the new prosthetic.
If you feel heightened sensitivity while chewing or in response to temperature changes, this is normal. These minor side effects should subside over the following days or weeks. However, if they are still a problem after several weeks, let one of our doctors know. They can recommend a remedy or possibly make adjustments to your bridge.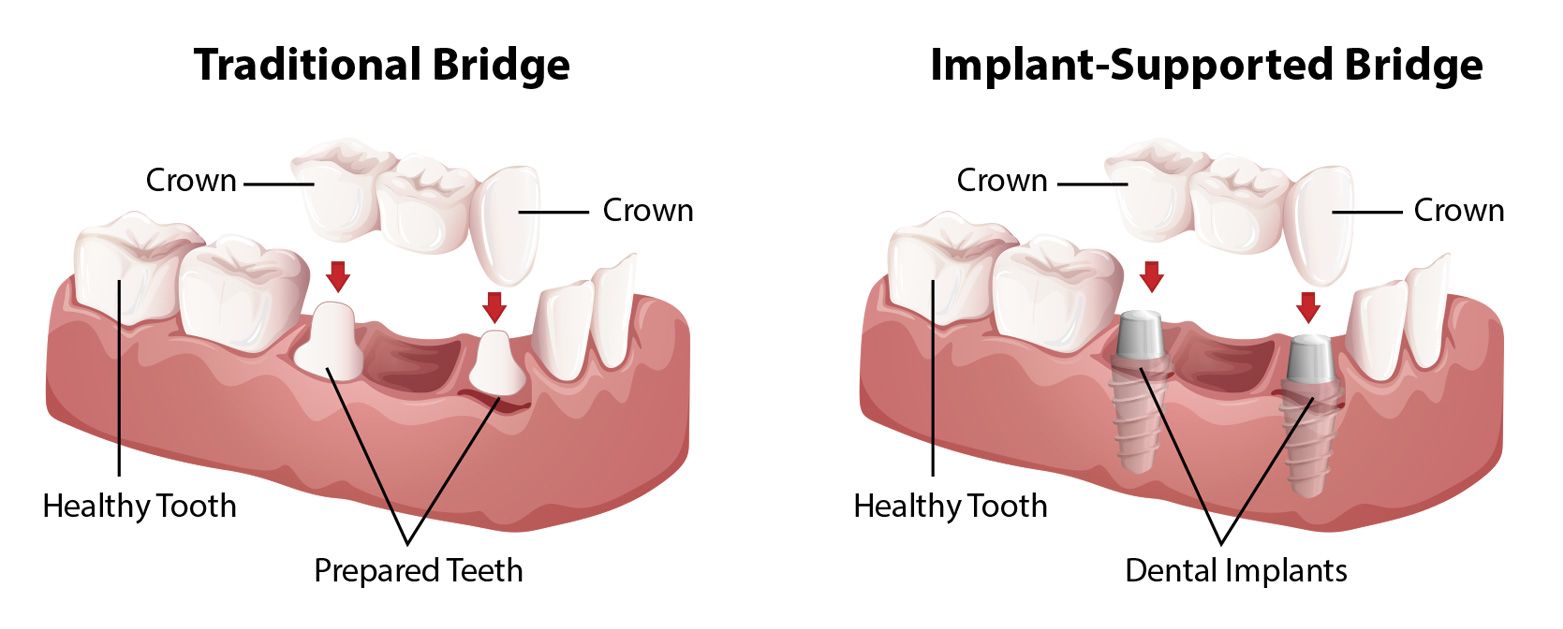 Implant-Supported Bridges
By replacing both a tooth and its root, an implant-supported bridge can protect against jawbone atrophy. This type of restoration is also often more comfortable and natural-looking than other tooth replacement options. Many patients also prefer the superior stability afforded by implant posts.
Before the bridge can be placed, you will first need to receive the implants themselves. Using local anesthesia and possible oral sedation, one of our doctors will make a small incision into your gums in order to access the underlying jawbone. After a small hole is created in the bone, the titanium implant is placed into the jaw. After your surgery, one of our doctors will provide you with a detailed recovery plan to minimize the risk of complications.
It typically takes about four to six months for the posts to fuse with the jawbone through a natural process called osseointegration. Once you have healed, your dentist can attach the permanent bridge using small connector pieces known as abutments.
Alternatives to Dental Bridges
Our patients often ask what alternative are available for missing teeth. In addition to implant-supported bridges, you can also opt for an implant-supported crown to replace a single missing tooth. The treatment timeline is similar to that of an implant-supported bridge.
You may also want to consider partial dentures to replace missing teeth. These restorations can be attached in many different ways. The most common version uses small metal clasps to attach to natural teeth on either side of the gap in your smile. This option is less invasive than a traditional dental bridge because the treatment does not require the removal of a small layer of enamel. They may not be as stable as a dental bridge, though. Each patient needs to weigh the pros and cons of these restorative options carefully.
Bridge the Gaps in Your Smile
If you are interested in restoring your smile after tooth loss, a dental bridge may be the right solution for you. To learn more about the restoration options available at Dearborn Family Dentistry in Dearborn, contact our office online or call (313) 565-5507 to speak with a member of our team today.
We gladly offer CareCredit® financing options to help patients afford treatment.