Tooth loss, gum disease, and cosmetic imperfections can hold you back from good oral health.
Fortunately, Dearborn Smiles can restore the function and appearance of your gums and the structures that support your teeth.
Learn more about how Drs. Mark Luria and Rena Allswang help patients with first-in-class periodontal care in Dearborn, MI.
The Importance of Periodontics
If you are suffering from the early symptoms of gum disease, you should seek treatment from a dentist or periodontist quickly. Swift intervention can prevent the many oral health problems associated with periodontitis. For example, a cleaning or deep cleaning could reduce your risk of tooth loss. In addition, our care will ease your discomfort and allow you to enjoy full dental function.
Achieve Periodontal Health
With Help From Our Dearborn, MI, Dentists
Whether you are suffering from gum inflammation, want to see a new periodontist, or simply have not visited the dentist in a while, we are ready to provide the vital care that you need.
For more information about how our dental practice in Dearborn, MI, can help with your concerns or to request a consultation, reach out to us today.
"Best dentist experience ever!"
5-Star Reviews From Our Patients in Michigan
Best dentist experience ever! I was really difficult patient and had bad experience with previous dentist. Excellent work all around.

View On Google
Signs You Need Periodontal Care
Routine exams at our Dearborn practice are the best way to know if you need periodontal care. However, you should look out for some common signs that may indicate a periodontal issue:
Gum Inflammation
Swelling or puffing of the gum tissues is a telltale sign of periodontal disease. Gums may also appear dark and red as opposed to pink.
Sensitive Gums
Plaque and bacteria can irritate the gums, making them more sensitive to pressure and bleed easily.
Loose Teeth
Later stages of periodontal disease can cause teeth to feel loose or fall out as a result of periodontal pockets leading the gum tissue to detach from your teeth.
Persistent Bad Breath
Chronic bad breath can signify gum disease. If left untreated, the infection will damage the gum tissues and underlying structures.
If you experience symptoms of gum disease, turn to our team to learn more about a customized treatment plan developed by a dentist or periodontist.
Addressing Gum Disease
at Our Dearborn, MI, Practice
When it comes to treating gum disease, prevention is our first course of action. During biannual cleanings, your hygienist can eliminate the bacteria that cause periodontitis. However, we can treat gum disease at any stage. To address gingivitis, a routine cleaning will usually be sufficient.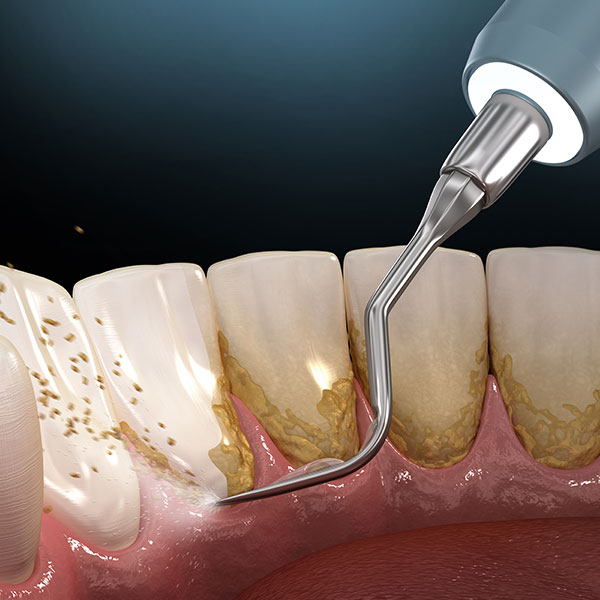 Scaling and Root Planing
Also known as a deep cleaning, scaling and root planing is designed to eliminate pockets of bacteria from within your gums.

Using an ultrasonic scaler, your practitioner will destroy these microbes and remove rough patches on your tooth roots. Because bacteria easily become trapped in these areas, scaling and root planing can help prevent flare-ups.

Compared to manual treatment methods, your deep cleaning with our advanced technology will be very efficient and will involve minimal risk.
Sinus Lift
If you've lost bone in either the top or bottom of your jaw due to periodontal disease, there may not be enough left to place dental implants. A sinus lift works to correct this problem by raising the sinus floor and filling the space with grafting material.

Over the course of a few months, the jawbone will fuse with this material to create a sturdy base for implants.
Exploring the Cost
of Periodontal Care
Periodontal issues that go on untreated can lead to costlier problems down the line. Dental insurance will typically cover at least part of your treatments.
To make dental care as accessible as possible, we accept financing options — including CareCredit® and LendingClub — to help keep out-of-pocket expenses manageable. If you have not visited us before, you can take advantage of our state-of-the-art facility by receiving an exam and X-rays.
"I'll recommend them to anyone in the area!"
More High Praise for Our Michigan Practice
Everyone has been so sweet, patient, and welcoming. Just what I was looking for! I sincerely appreciate their kindness.

I'll recommend them to anyone in the area!

View On Google
They put you right at easy with their friendly demeanor. Up to date techniques and listening to your requests.

View On Google